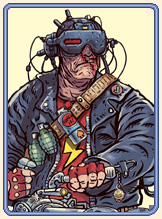 The characters and factions of Bedlam
Over centuries, mankind's quantum advancements invariably led to greed and war, causing a catastrophic clash of beliefs and scientific fusions that ultimately ravaged much of the planet — a time known as the Barren Age. Civilization survived and ultimately flourished in the spectacular metropolis of Bysantine. But outside the city's protective walls lie the twisted lands of Bedlam, the result of humanity's race to oblivion. The adapted and the insane call Bedlam home, and only the daring venture into the deadly domain.
As the technological marvel of Bysantine falls victim to overcrowding, class distinction, corporate conflict and organized crime, there comes word of a hopeful place beyond Bedlam, somehow unblemished by the Barren Age: a distant utopia called Aztec City!